What an honor! Although I am very new to blogging, today I received an award from Lauren at Teacher Mom of 3 (also discovered she is named after the amazing Lauren Bacall).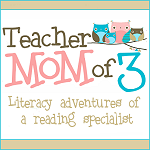 Thanks so much Lauren! This was a real honor but also a bit of a worry as I wasn't sure exactly what to do... so I hope I have this right : )
Lauren awared me -
So now I am going to follow the rules!
Now there are a few rules to follow when receiving this award.
1. Thank the blogger who nominated you.
2. Include a link to their site.
3. Include the award image in your post
4. Give 7 random facts about yourself.
5. Nominate 15 other bloggers for the award.
6. When nominating, include a link to their site.
7. Let other bloggers know they've been nominated.
Here I go: 7 Random Facts About Me
1. I live in the wonderful Sunshine State of Australia (Queensland)!
2. I'd love to meet the Dalai Lama - my wonderful daughter actually did and got to shake his hand!
3. I played Alice in the play Alice in Wonderland when I was 13.
4. I am Lord of the Rings fan and can't wait until The Hobbit comes out later this year.
5. I love teaching math and making math games!
6. I drink can't even think until I have had my morning coffee!
7. I have always wanted to go on a cruise to Antarctica.
These are the bloggers that I am nominating for this award!
A big thank you to all of you for inspiring me! And thank you Lauren for providing me with the opportunity to give these people some well deserved recognition.