It is not my new school year as that is January for us in Australia but after reading some of the New School Year Resolutions in
Amanda's Linky
, I was inspired. So these are what I would be including.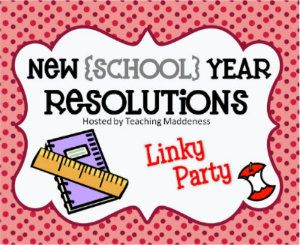 I just have 2 very simple resolutions that I would include.
#1
Have Fun!
Back to school time is always so busy that actually stopping to enjoy it seems to get forgotten! A teaching partner I had many years ago always tried to be very organized in the mornings so that she could greet the kiddos in the morning and spend time chatting with them. What a great start to the day!
#2 More Games!
I'd also vow to play more games with the kiddos. They enjoy them and I always enjoy them too! There are so many great getting to know you games. And I always try to use games in math lessons. My favorite games are those just for fun ones that we play in the last 5 minutes of the day. I definitely need to finish the day with these more often.
# More Organized
I know I said 2 but after reading the 2 above I realized that the key to more games and more fun is being more organized. I guess it really needs to be #1 as then the others will hopefully follow.
Hope you like my resolutions! Make sure you check out the others at Teaching Maddeness.